Currently, music therapy is offered to adults transitioning from high school into Community Living services as well as adults in life skills programs and supportive leisure and employment programs.
Music therapy at RMACL offers goal-directed 1-1 and small group expressive music-making and receptive opportunities addressing a variety of needs, such as communication, motivation and attention, ongoing academic learning, fine and gross motor coordination, interpersonal skills such as listening, joint attention, boundaries, and development of leisure and creative interests.
Demographic
RMACL offers services for children, youth, adults and seniors with developmental disabilities and their families.
Ages of participants ranged from 22-51. 50% identified as female, 50% as male. Participants live with a variety of challenges. All but two have a cognitive disability, and several are on the Autism spectrum. Other diagnoses and concurrent conditions include Cerebral Palsy, blindness, hydrocephalus, Down Syndrome,Tourette Syndrome, Fragile X Syndrome, AD(H)D, anxiety, depression, OCD and other mental health conditions.
How does Music Therapy uniquely address the needs of clients at RMACL?
Participants with developmental disabilities, neurological diversity, sensory or motor difficulties and mental health conditions are a diverse population. Music therapists are trained to address a great variety of areas of need, ability and interest to further individuals' development and enrich their lives.
Music therapists (MT's) adapt the learning of musical instruments to fit a person's comprehension, skill level and physical abilities. Individuals are highly intrinsically motivated to participate and get immediate feedback of success.
Singing and song-writing expresses our humanity from deep within us. Making music gives participants joy, satisfaction, and helps them cope with life challenges beyond their control.
Working on fine motor coordination, eye gaze, pronunciation or recall…it is hard work for the participants, which the MT can package as all fun and music play.
Participants whose verbal skills are limited can nonetheless express themselves in song, movement to music, listening choices and instrument play.
The music therapist uses the elements of music to help each individual learn and practice non-musical and musical skills in order to further their therapeutic goals and personal objectives.
How has COVID-19 impacted the program?
Typically, participants come to the music room. During the pandemic, the program went mobile, and the music therapist visited each person individually outdoors at their home. Residents of group homes made music together in their backyards
Music Therapy was suspended between March 26-April 15 (about 24 hours) and then reborn as a mobile and outdoors model on 2 days/week.
Covid-19 forced a radical re-thinking of program delivery: Singing needed to occur outside under well-ventilated conditions. Participants and the music therapist needed to stay apart, and the MTA wears a mask when sitting closer than 6 feet.
No group sessions except within the bubble of persons living in the same group home occurred.
Everyone became very well acquainted with hand sanitizer, Lysol and 'no touch' rules.
The fact that the music therapist visited the participants at home brought out the best in them. They were dressed, ready to go, assisted with set-up and take-down, and proved their social skills as hosts during greetings, thank-yous and the back-and-forth of the musical interactions.
"Cats and dogs, birds and insects visited us (mostly to our delight). Nature became a co-therapist and the symphony of sounds and sights enriched our senses, inspired our music-making and helped us relax."
By adopting this program you will help expand the music therapy program at Ridge Meadows Association for Community which will help clients improve speech and language, gross and fine motor skills development, bolstering mental wellness and social confidence.
Expanding this program would create inclusion to extend involvement for additional adults whose health, disabling conditions or behavioural challenges do not allow their participation in the program, especially during the pandemic. It will also create a new music therapy program designed to engage youth with developmental disabilities.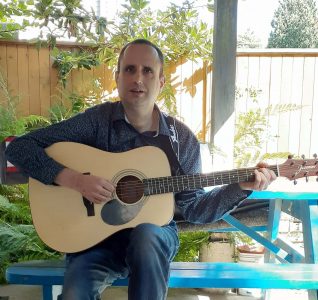 "I am learning to play the guitar with Birgit. I am learning to understand the structure of music such as notes, scales, keys, harmony and chords. I need this knowledge because I am blind and have to feel my way along the fretboard. Initially I refused music therapy at my group home because it would be so weird having our sessions at home.
But I got inspired to buy myself a guitar and requested music therapy so I could learn and play. When the pandemic forced us to stay home, I felt stuck at home with nothing to do. I was so bored. Music helps me express myself and get out my frustrations. I work really hard but I am also patient with myself. I have been through some hardships but music has been a constant in my life".