The Victoria Brain Injury Society's (VBIS) Music Therapy program is focused on improvisational music therapy and one on song-writing and performance. Last year the total attendance to the program was 347, with 32 unique clients attending the program. The program is fully accessible to clients who use a wheelchair, walker, or cane, as well as to those clients who are non-verbal or have speech impairments.
Demographic
Adults recovering from brain injury in Victoria and surrounding areas
How does Music Therapy uniquely address the needs of clients at VBIS?
Helps clients improve, maintain, and restore an optimal state of well-being
Using rhythm, pitch, vision, and hearing, enables clients' brains to sing words that they aren't able to speak
Provides clients with positive, successful experiences that focus on their abilities, which improves self-esteem and motivation
How has COVID-19 impacted the program?
All programs at VBIS moved to virtual platforms due to COVID-19. For those in the Music Therapy program, being able to connect, even virtually, has been a saving grace as many are living in isolation.
Adopting this program would allow Victoria Brain Injury Society to continue to offer this valuable program, which serves brain injury survivors by assisting them to improve their musical ability, and provides additional beneficial outcomes such as:
Improved musical ability leading to improved motor functions;
Improved speech and language processing functions;
Improved memory function through practicing and retaining songs;
Improvements in fine and gross motor skills;
Reduced sound sensitivity which is common after a brain injury;
Reduced isolation;
Increased group bonding and therefore increased natural supports;
Increased self-esteem from having practiced and improved a skill.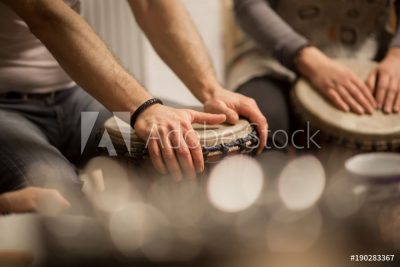 "I suffered a ruptured brain aneurysm more than a year ago. For several months, as part of my recovery program, I accessed the neuro-rehabilitation group work provided by Victoria General Hospital. My recovery progressed very well, I am happy (and grateful) to report. Those sessions came to a natural close, but my recovery was, and still is, ongoing. One of my neuro-rehab therapists suggested I reach out to the Victoria Brain Injury Society (VBIS) to see what programs are offered there. I am so glad I did.
After a friendly and productive meeting with their intake person, I chose to sign up for their Music Therapy program. I had just attended my second week in the program and was finding that participating was making a difference in my motor functions and I was feeling so much better about myself. And then the pandemic struck. I was a little distressed to imagine not being able to take these courses, given how well my recovery process had been going. And then I received an email from the VBIS music therapist, asking how I felt about taking the Music Therapy course online, via Zoom. I said yes, absolutely – even though I had zero experience with Zoom! I knew that we were all needing to adapt to new ways of doing things, given the current state of the world. And it turns out that Zoom is pretty easy to use.
I have just finished my second Zoom music therapy week. It was excellent; very well led and very affirming. I am so grateful I could be in a room, albeit a virtual one, with others who are dealing with similar injuries to mine. We do not know how long it will be until we can meet in-person again. But I am so happy, relieved, and grateful that VBIS figured out a way to offer their courses electronically. Nothing beats an in-person session for me; however, I am enormously grateful to be able to see, talk and sing with everyone in the group from my computer screen.
Sincerely,
Alan G."