The multidisciplinary team at the Vancouver General Hospital (VGH) Burns, Trauma and High Acuity Unit (BTHAU) provides specialized care for adults from across British Columbia with some of the most excruciating injuries: burns. Due to the fragile nature of patients' health, music therapists at BTHAU offer one-to-one sessions ranging in length from several hours to a few minutes depending on need. On average, the music therapist sees 4-6 patients per 6-hour day, providing therapy to in-patients at critical, yet painful moments of their recovery:
1. Throughout dressing changing, mobilization and intravenous or arterial line insertion to decrease pain and manage anxiety
2. At their bedsides for emotional / psychological support
3. During showers and/or baths to reduce the intensity of pain
Patients with burns covering more than 20% of their bodies often remain in hospital for several months. The therapist works with these individuals to draw on reserves of strength to undertake arduous rehabilitation.
Sessions leverage a variety of interventions, including:

• Live, supportive music at the bedside during procedures, dressing changes
• Confidential emotional support
• Relaxation and breathing support
• Participation in music, including song writing
• Personalized music for mood stabilization and managing anxiety
• Support for family members and loved ones
• Personalized CDs, made for use at the patient's discretion
Demographic
The BTHAU at VGH is the only adult Burn Centre in our province and the regional referral center. The unit provides treatment to all British Colombians with burns covering 10% or more of their body surface area. Annually, the unit treats approximately 80 adults with severe burns, of these approximately 85% are adults 19-64 and 15% are seniors 65+.
How does Music Therapy uniquely address the needs of clients in the BTHAU Unit?
As a result of their injuries, patients' nerves are often severely damaged; they must undergo skin graft surgery and are at constant risk of life-threatening infection. Keeping patients' wounds clean is essential for recovery, but the required dressing changes, showers and skin debridement can be nearly intolerable for already traumatized and vulnerable individuals.
Music therapists offer a ray of hope to patients and are truly integral to the healing process. They help control intense pain at critical moments, alleviate suffering and reduce patients' fear to lessen the likelihood of ongoing post-traumatic stress disorder. Music therapists also offer psychosocial support for patients and families, promoting self-expression and the processing of the emotions associated with severe injury, such as grief, fear, anger, gratitude, survivor guilt. Through engaging in music therapy, patients can experience agency in their own recovery, and evolve their identity and sense of self, post-injury.
How has COVID-19 impacted the program?

Fortunately there has been on disruption to this program during COVID-19.
In 2020 from January 1 to August 31, BTHAU has admitted 59 burn patients. On average the unit sees 80 patients annually. Adopting this program would fund an additional (6 hour) day of music therapy per week for 52 weeks. Your support of this program will allow the BTHAU music therapists to continuing providing this essential service to burn patients, working privately with them to support their emotional wellbeing, and collaborating with allied health professionals such as doctors, nurses, physiotherapists, occupational therapists, spiritual care practitioners, respiratory therapists, and care aides.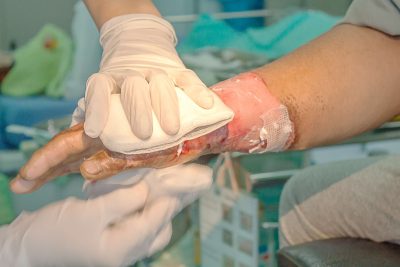 From Music Therapist Carolyn:
"I went in to see Sophia* before the largest of her weekly burn dressings began, and we talked about her emotional needs and how they were changing throughout her hospitalization. As we discussed her burn care, Sophia became distressed, so I began playing the piano gently underneath our conversation, which had an obvious calming effect for her. We both noticed it, and agreed that the combination of grounded relaxation singing and piano was the most effective music therapy choice for helping to managing her anxiety before, during, and after a painful dressing change. Starting the dressing change in a less anxious place, Sophia was able to stay calm during the first few painful moments. When the pain intensified, I improvised lyrics to the relaxation that mentioned her favourite places and favourite images. She was so surprised that she laughed. Having her attention again, I was able to lead her through more breathing, slowing, and calming, all paced to the piano and my singing. Sophia later told me, "this is so hard… I don't know how I would get through it without you. The music makes the stressful moments so much better."