The music therapy program at Semiahmoo House Society focuses on community integration and providing creative programming for their clients. It has been growing and expanding since it started in 2008. The program consists of two adapted classes: a rock band and a musical theatre class, for the Recreation and Leisure department of Semiahmoo House Society. They also work in two of Semiahmoo House Society's group homes, as well as providing four hours a week of group music therapy sessions and one hour a week of 1-1's to the day program. Recently they started a new music therapy group for participants who were retiring from the work program and transitioning into a more relaxed pace day program.
Demographic
People aged 13 and up with developmental disabilities and their families
Diagnoses vary greatly but include: Autism Spectrum Disorder, Cerebral Palsy, Fetal Alcohol Syndrome, Down Syndrome, Global Developmental Delay, Acquired Brain Injury, and some very rare genetic disorders as well as duel diagnoses
How does Music Therapy uniquely address the needs of clients at Semiahmoo House?
Music Therapy is able to uniquely address the needs of participants at Semiahmoo House Society by simply allowing everyone to participate together! It is rare to find an activity that can accomodate different needs, likes and abilities! Music Therapy is able to let everyone shine, whether they are verbal or non-verbal, whether they are in a wheelchair or have full mobility, whether they usually interact with their peers or not. Music Therapy has really become the common denominator not only between participants and staff but also peer to peer interactions. A big need for the clients of Semiahmoo House Society are social needs. How can we engage and connect? How do we draw them out of their inner world? The answer more often than not has been the use of music through music therapy.
How has COVID-19 impacted the program?
The music therapy program was suspended for 3 weeks to take time to respond to the pandemic. After the break they returned to 5 hours a week doing daily music therapy sessions Monday – Friday for the day program.
Adopting the program at Semiahmoo House would allow the continuation of online Music Therapy services should they be forced to remain online for 2021. The funds would be used to maintain their one hour sessions each day from Monday to Friday, serving 20-30 clients every day.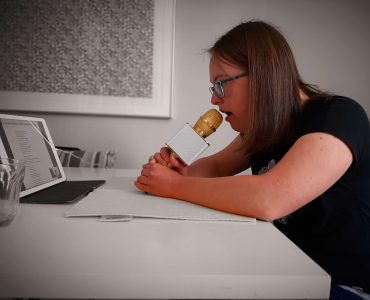 Morgan presents as a very shy person. A lot of the time she has her head down, avoiding eye contact, and won't respond if you ask her a question. You might think she is very quiet or perhaps even unable to speak that is, until Music Therapy! With a mic in hand, Morgan's voice comes alive. She belts out her favourite songs and makes mash-ups on the spot, musically connecting two similar songs on the fly.
When in the spotlight during Music Therapy, Morgan's true personality comes shining through.