The music therapy program at PAFN consists of individual sessions with children and adolescents with autism. Prior to the pandemic, all sessions were held at the PAFN centre location. During the pandemic, all sessions moved to online within 3 weeks.
Weekly sessions of one hour in length are held and they encourage a commitment of one semester to establish rapport, create a bond, and target consistent developmental progress with a client. Within the Pacific Autism Family Centre, a designated music therapy room provides the space for clients to explore, engage, and to create with a variety of instruments including drums, drum kit, harpsicord, piano, guitars, small percussive instruments, and recording equipment. The music therapy program at PAFN implements the MITM (Meet In The Music) curriculum, created by ET Music Therapy Director Esther Thane, which is utilized by registered, accredited music therapists around the globe.
Demographic
Individuals on the Autism spectrum, along with their families
Individuals with autism often gravitate towards the music medium, and it is an excellent form of developmental treatment because interactive opportunities are met with more reception when they involve music. Integration of newly acquired skills is deeper when the child is approaching the learning from a place of curiosity and inner motivation. Autistic individuals often experience sensory dis-regulation, speech/language/communication deficits, motor praxis issues, fixations on a specific topic, and social difficulties. They can often struggle with understanding social cues & facial expressions. Autism can involve hyper/hypo reactive sensory systems, which can manifest as tactile or auditory defensiveness, underdeveloped proprioceptive and vestibular systems. Autistic individuals often have heightened abilities with memory, music (pitch & rhythm), organization, technology etc. They are highly individualistic people that given the opportunities, contribute to society in productive ways within a variety of workplace environments.
How does Music Therapy uniquely address the needs of clients at PAFN?
Because music is a highly engaging and motivating interest for individuals with autism, a variety of skills can be targeted using the medium of music, often in an effortless way. Music Therapy addresses social, cognitive, communication, physical and self identity goals through improvisation, and structured music interventions/activities.
Through music therapy, clients have been observed to want to participate in group sessions and explore being with their peers, built their vocabulary and conversation ability, began crossing the midline, gained self identity and self confidence, improved fine motor skills, improved strength in arms and hands, improved self regulation, increased attention and engagement.
How has COVID-19 impacted the program?
Suspension of our program for our Music Heals funded clients was only 3 weeks, during which time we set up the infrastructure for telehealth (obtaining a company Zoom account, training, staff meetings to discuss protocol, adaptations to therapy sessions/ interventions). Telehealth sessions began in April for all three Music Heals families receiving funding. Two of the three families have migrated back to in person sessions recently, the other has remained online.
Many families simply can not afford music therapy out of pocket. Their Autism Funding Unit monthly stipend does not sufficiently cover their treatment costs of even ABA, Speech, and OT. As a result, they are left without the means to participate in music therapy programs.
Your support quite literally adopts the families at PAFN so that they can receive free access to music therapy.
Nathan's family sharing about his experience at PAFN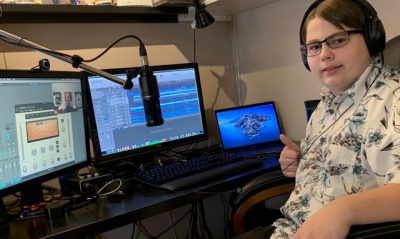 "The ongoing consistency with music therapy provided through Music Heals funding makes such a difference for Nathan and our family. It helps set such a positive tone for the day for him and really changes the shape of the day for us as his parents helping him make the necessary transitions to more challenging activities throughout the rest of the day. Most importantly, it improves Nathan's confidence and his ability to cope with his ongoing medical appointments and procedures.
Just recently, after a tough week with several medical appointments, Nathan finished his online session with his music therapist Luke in the late morning and then later had a great, positive outcome working on his IEP (Individualized Education Plan) goals for this coming school year with his teacher (and mostly independently). Normally he would be reluctant to participate with his teacher to talk about school and his goals he wants to set for himself! Accessing music therapy before school activities sets him up for the best outcomes possible. It shows the power of healing through music to lift him up to meet the activities of the day and for him to really have an ET Music Therapy session each week that he really looks forward to participating in."