Music Therapy In The NICU
Music Heals is proud to support music therapy programs in NICU facilities across BC. Scroll down to read about the incredible work the healing power of music is doing for premature infants in critical care.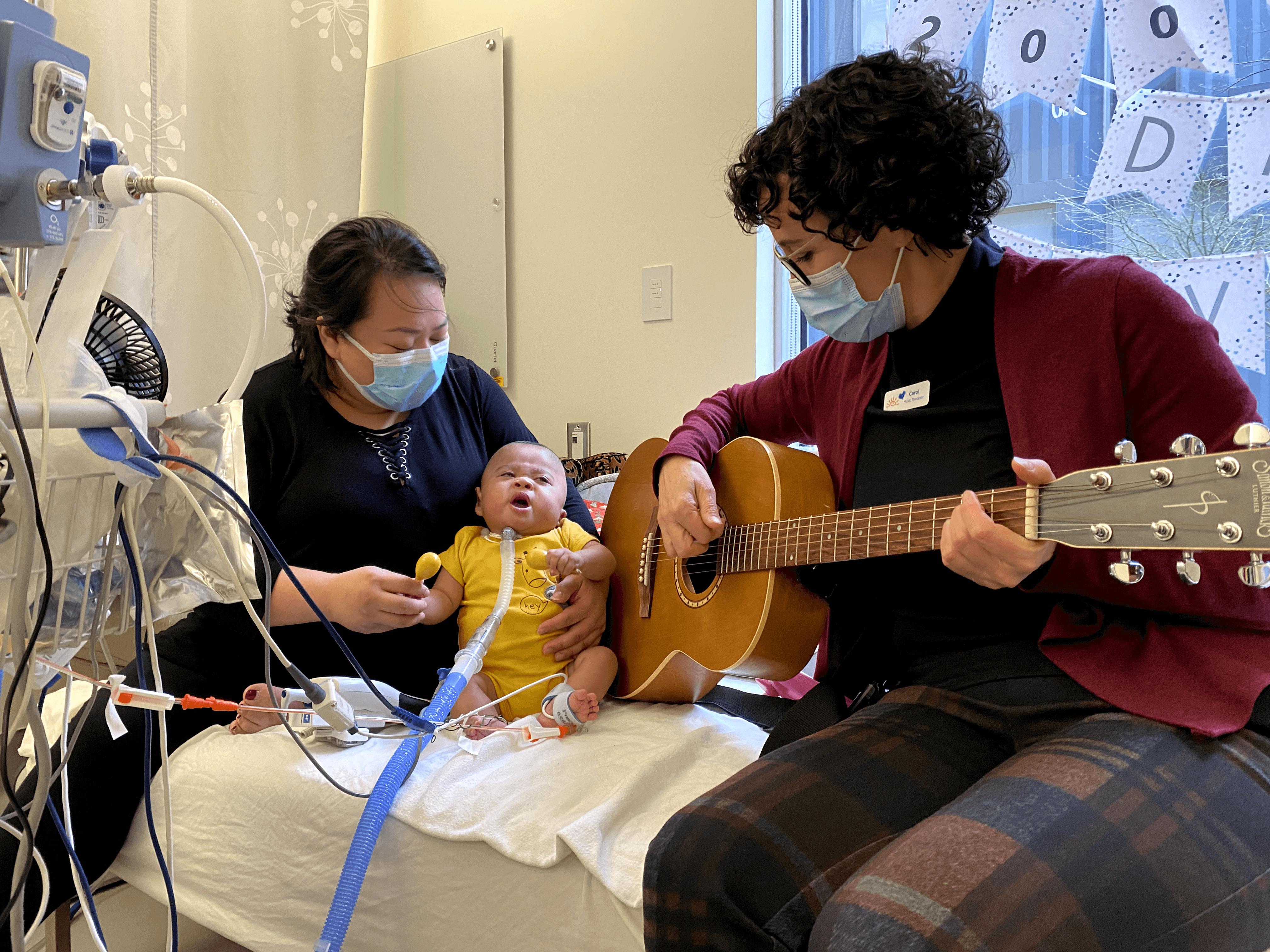 FROM BC WOMEN'S HOSPITAL NICU:
David Rhylan recently celebrated 250 days of life in NICU, an important milestone for him and his family. Born at just 26 weeks, it's been a long and challenging journey in his short eight months trying to overcome many health issues, all related to his prematurity.
Amongst these health concerns, David Rhylan has experienced persistent lung issues. Despite labouring in his progress, it was decided he needed a tracheostomy, a tube inserted into the windpipe to enable breathing support. This life-changing decision has been a breakthrough for baby Rhylan and his family have seen big advancements in his engagement and development.
Despite these early challenges baby Rhylan is incredibly resilient and inspires his mom Cecilia and family to persevere through the tough days: "Despite all he's endured, he's an incredibly happy baby and I strongly believe that music is one of the contributing factors that keeps a smile on his face each day."
Music has become a big part of Rhylan's daily routine in the Ladybug unit at BC Women's. This has been influenced by the weekly music therapy sessions with Carol. During their sessions, David Rhylan loves engaging with the small instruments and new toys that stimulates him in new ways. With the recent placement of the tracheostomy tube, it is difficult for him to use his voice. In music therapy, when he learns he's made a noise with a small shaker or by lightly strumming a string on Carol's guitar, you can see his whole body build with excitement.
The sessions have also supported David Rhylan during difficult procedures, where Carol is present with music to distract him and help him stay calm. Cecilia says playing music is now a common practice for them during any challenging procedures. Music therapy sessions are also so valuable for the social interaction it provides David Ryhlan and Cecilia. She can recall almost every session with Carol, the ones that stand out the most were during the Holidays. At that time of year it was a comfort and source of joy to share the festivity and traditions through holiday songs with Carol, creating long lasting memories.
The community of parents in the NICU are a crucial source of support to one another. "Not a lot of people know about the NICU, a lot of moms I knew who had babies at the same time as David Rhylan, their journeys look a lot different to ours."
With Music Heals support, music therapy sessions are provided once per week on the Ladybug unit for infants with complex medical needs. There are many shared experiences this community of parents go through, and music therapy creates the few positive memories that everyone can share in.
"We can't emphasize enough how much music and Carol's visits have brightened our days and how therapeutic it has been for my son. My fellow NICU parents and I always rave about how much we enjoy her visits each week, we only wish she could come more often."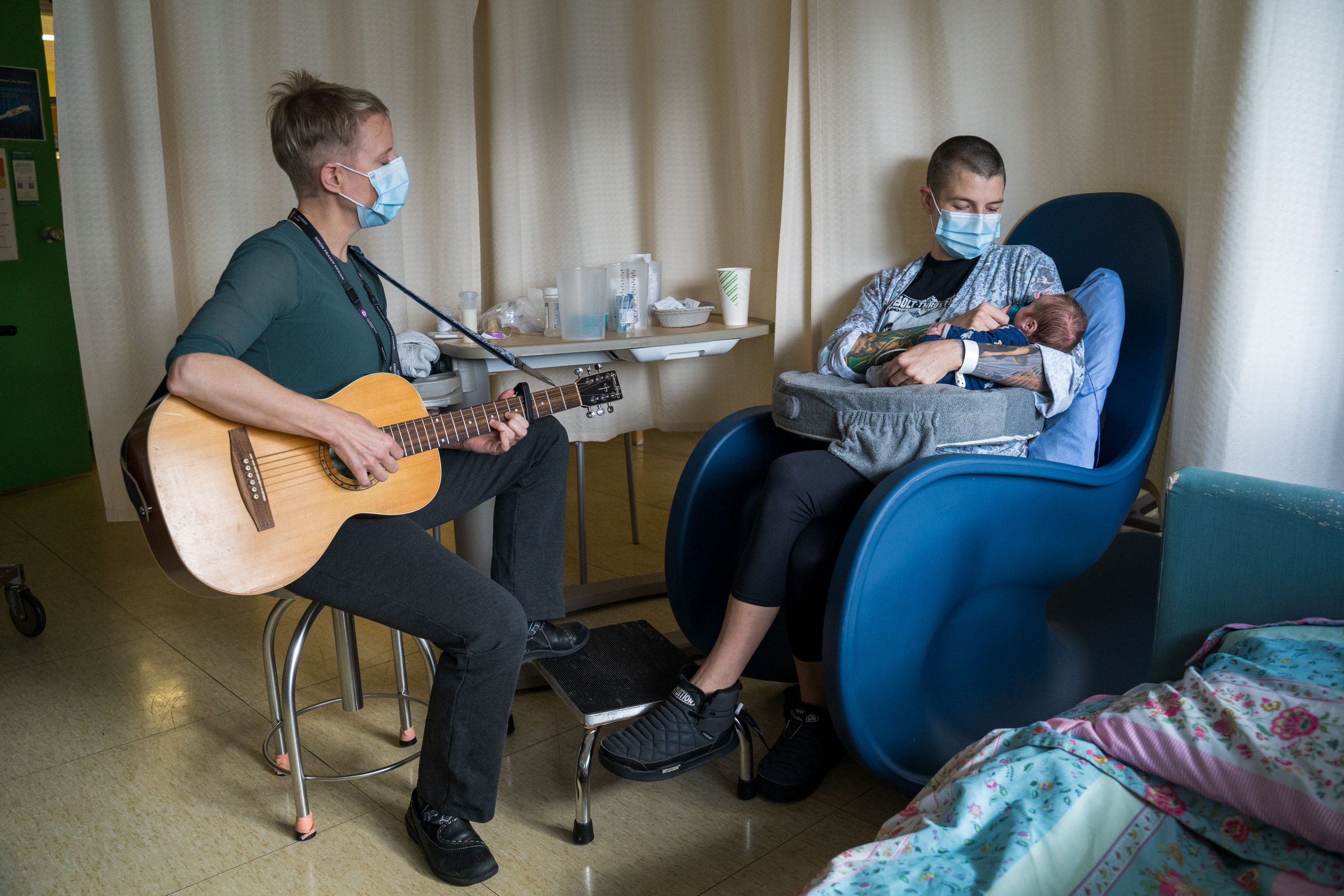 FROM ROYAL COLUMBIAN HOSPITAL NICU:

"As a music therapist, I've seen parents put down their phones during skin to skin contact and gently stroke their baby's head or back and relax back themselves during music therapy. I've also heard parents singing along to their infants during music therapy and letting me know that they have taken the time to sing to their infants when I'm not there. I've also been able to soothe fussy infants when parents aren't on site and supported them to calm to a more relaxed state or help them settle back to sleep."
"One family I worked with shared a family song that grandma sang to all of her grandchildren at home – and I sang this song with the family. When they returned home, they sent me a video of grandma singing this song to their baby once he arrived home. It reminded me of how music plays such a fundamental role in so many families, even when they are apart."
"A mother I worked with expressed how thankful she was for experiencing music therapy in the NICU. We talked together about the patience it takes for a premature infant to grow and develop on their own schedule."
"Often, I work with families to create songs of kin that they can share with their infant. Families choose a song that is meaningful to the family, and then we modify the music and lyrics into a lullaby that is personalized for the baby. In one case, I created a song of kin for a family whose nephew rewrote the lyrics to a song to include the infant's name and other special components. I then modified the lyrics to fit the tune as well as offering lyric suggestions so the song could be used to settle to sleep or to wake up and greet the morning. I also recorded the song and sent the family a copy, which they loved and were so grateful for. On another occasion, a mother chose a song that was meaningful to her family and I changed the lyrics of the song to make it about what the family likes to do, along with adding all of the sibling's names. The mother shared with me a recording of her older son singing along with my recording. The mother also played this recording of the brother singing along for her infant in the NICU, so they could hear their brother's voice."
– Katherine Deane, Music Therapist at Royal Columbian Hospital NICU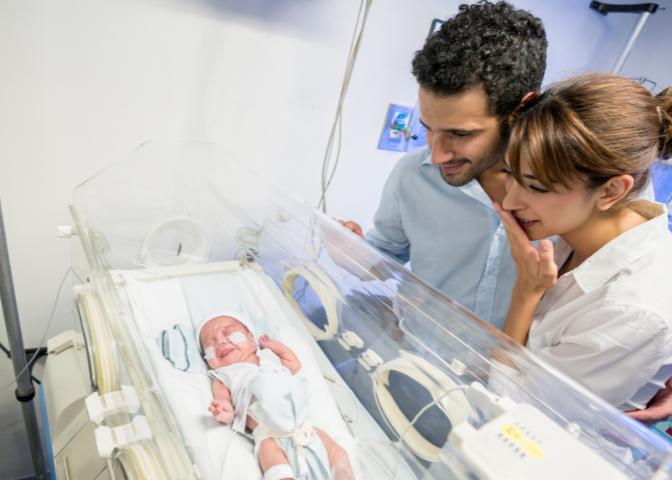 FROM SURREY MEMORIAL HOSPITAL NICU:
"Just before Christmas of 2021, Baby B's family found themselves rushed to the hospital, months sooner than they had planned, to meet their first baby. Regardless of how prepared they felt, their son had come earth-side and required the care and expertise of the staff and facilities at Surrey Memorial Hospital NICU.
Not long after they settled in, Baby B's Mom noticed the music therapist on the unit and asked the nurse if her baby was eligible. After a consultation with Laura, the music therapist, a plan was made to provide music therapy services once weekly.
Through a parent education session with Baby B's mom, Laura encouraged her to sing to her baby to promote feelings of bonding and attachment, as well as to encourage healthy neurologic development. Laura outlined proper guidelines regarding volume and frequency along with encouragement to be vigilant for signs of overstimulation. Though mom joked about her own singing voice, the music therapist encouraged her that her voice was her baby's favourite sound in the world, as proven by evidenced-based research. Laura also provided a list of developmentally appropriate songs to try out.
Through weekly music therapy sessions, both parents saw their baby's enjoyment for music grow, as did their confidence in singing to their newborn. In such a sterile and unfamiliar setting, music became a normal ritual for the family to experience as they made positive memories together in the NICU. They even chose a special Christmas song that became their baby's favourite song. Despite ongoing health concerns, music is a central feature of their family's identity and a tool they can use to feel calm, joyful, and well."
– Laura Hastings, Music Therapist at Surrey Memorial NICU