Before COVID-19 the music therapy program at Mount St. Mary Hospital consisted of:
Dementia Groups: Three weekly 45-minute small groups (6-10 people) on an ongoing basis for residents with dementia. The goal of these groups is to decrease confusion, restlessness and anxiety. It is also used to increase communication, interaction and sense of belonging for these residents. There is a familiar structure to each group, using themes and instrument-playing. The group members remain consistent so that residents come to feel comfortable in the session. Family members often participate in these programs.
Songwriting Group: Residents give voice to their thoughts and feelings through songwriting.
Full Circle Spiritual Music Therapy: Based on the book Full Circle, by Music Therapist Dr. Kevin Kirkland and Chaplain Howard McIlveen, this weekly ongoing program supports residents in their spirituality through music.
Individual Sessions: One-to-one sessions are provided for residents, especially for those who are isolated by their mental or physical health. Palliative sessions are offered to provide comfort to those nearing the end of life. Residents with physical challenges are able to express themselves through adaptive technology such as the Soundbeam. For those with limited communication abilities, the music therapist enables residents to express themselves and connect with others through music. Individual sessions are typically offered weekly or as needed for 20-30 minutes.
Demographic
The music therapy program at Mount St. Mary serves older adults living in complex care. At least 80% of the residents are living with dementia or other cognitive impairments. Many individuals living at Mount St. Mary are living with neurological disorders such as Parkinson's Disease or Multiple Sclerosis. Anxiety, depression, personality disorders and other mental health concerns are common in this population. Mount St. Mary is usually the final home of many of these residents which means many will require palliative care at some point.
How does Music Therapy uniquely address the needs of clients at Mount St Mary?
Music therapy is unique in its ability to address the needs of the population at Mount St. Mary. For the 80 percent of residents who have dementia, music fills a gap left by dementia, bringing back the sense of self, of memories of people, places, and events that are part of their identity. Music can have an observable impact on the mood and level of engagement of residents. It can help calm agitated residents, and connect residents who feel isolated or alone.
How has COVID-19 impacted the program?
The music therapy program was suspended for almost 3 months. It resumed as of June 1st but there was a two-week break at the beginning of July as Island Health had ruled that there should be no music therapy in long term care on the Island due to risk of transmission of Covid 19. This ban was lifted mid-July and the program was restarted. According to new guidelines from Island Health they can only gather residents with other residents from their small unit "bubbles" and should avoid singing during sessions for now.
Telehealth sessions were provided during the first two weeks of July. These sessions were conducted using an iPad which was brought to residents' rooms by Mount St. Mary staff.
All groups that involved residents from more than one house (bubble) were cancelled. Small groups using piano & guitar were provided in the houses with only residents living in the same house participating together. Individual sessions continued to be provided using recordings and instrumental music.
Due to Covid-19, Mount St. Mary Hospital is also struggling to raise funds for equipment and programs, including music therapy. In previous years, the music therapy program has also depended on the returns on our Sisters of St. Ann Legacy Fund. This year, they are not expecting the investment returns they have seen in the past. This will also reduce the funds available for music therapy. At this time, they are hopeful we will be able to sustain our current music therapy program. However, it all depends on the funds raised for this important program. Due to Covid-19, they are incurring numerous costs associated with PPE, staffing challenges due to the single-site order, increased cleaning protocols, etc. Consequently, the budget is already stretched as far as it can go.
Your support would provide 115 hours of music therapy to the residents at Mount St Mary. This would be for individual sessions with a focus on residents with dementia and those with extraordinary anxiety and depression as a result of the forced isolation due to Covid-19.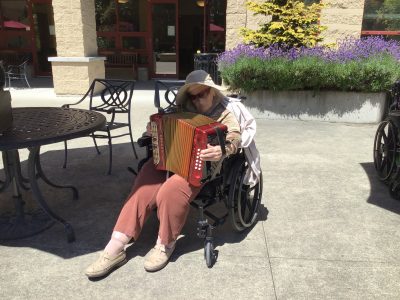 Emma* was a 97 year old woman living with Alzheimers, cancer, anxiety and depression. The music therapist arrived for a visit and Emma was sitting by herself in the dark with her curtains drawn and said "I was just thinking about you."
Knowing that Emma had been both a piano and accordion player, the therapist invited her to play some music together. Emma said "If I can hear the melody in my head I can play it!" Together they played folk and classical melodies and chords taking turns beginning a song. The resident played most notes successfully, and laughed when she made mistakes. She said "It's so much more interesting to play with other instruments". Some of Emma's fellow residents wheeled up in their wheelchairs to listen and expressed admiration and appreciation for Emma's musical gifts. Emma said "We should do this more often, if we do it often we get better and better!"
*Name changed to protect residents' privacy