Music therapy services at Charlford House consist of weekly hour group sessions and weekly 50 minute individual sessions for alumni and current clients, totalling in 42 weeks. Individual sessions continue to focus on cultivating emotional intelligence and regulation, exploring themes of hope, resource and resiliency, and discovering identity and one's own voices. Interventions often implemented include lyric analysis, guided imagery and meditation, songwriting, analytical improvisation, and recovery playlists.
Group sessions are aimed at cultivating a sense of community, connection, and expression through songwriting, guess who's song, karaoke, improvisation, guided meditations, singalong
Individual sessions for alumnae are aimed to cultivate transpersonal experiences, connection with community, effective boundary development, and emotional intelligence through songwriting, mandalas drawing,
singing songs, instrumental improvisation, and guided imagery and meditation. They have also use adapted methods of Guided Imagery and Music to promote feelings of relaxation and safety.
Demographic
Women overcoming addiction and mental health issues ranging in ages 19-64
How does Music Therapy uniquely address the needs of clients at Charlford House Society?
Music therapy helps clients access emotions which are usually deeply defended after years of numbing with substances. Music allows a gentle, non-confrontational connection with deeply rooted emotions, which then allows the clients to begin to cultivate emotional intelligence, connection with self, and approach difficult emotions without a substance.
Music therapy also fosters a sense of unit and connection in group through songwriting, improvising, singing together, chanting, and listening to each others preferred music. This combats the isolation often faced in addiction, cultivating a sense of common humanity.
How has COVID-19 impacted the program?
Sessions were suspended for one week, a total of 10 hours were cancelled. After the one week pause, they made the move to online group sessions. Now the program is back to in person sessions with proper social distancing.
Thanks to the support of participants from Let Her Sing, we will be able to sustain the 2 hours a week that Music Heals has funded for the past 4 years at Charlford House. These 2 hours a week for 42 weeks enable Charlford to continue to offer group sessions, while the funding provided by Charlford allows for 8 individual music therapy sessions a week.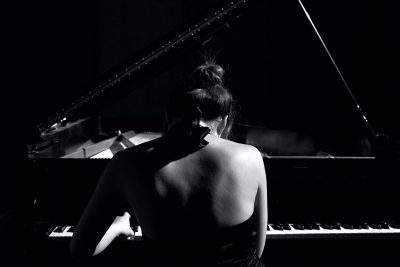 "When I arrived, I had no hope, I felt my life was a death sentence. I had no idea how to connect with my emotions, let alone understand what they were. All I could recognize was a constant state of anxiety and despair. When I started music therapy sessions, I was able to begin to identify what emotion I was feeling and how I could process it without having to use substances to endure it. [Music Therapist] Rebecca's compassion, empathy and thorough understanding of the connection between emotional intelligence and music has changed my life dramatically. Today, I know with absolute certainty that I can feel my feelings without fear of them killing me and that I can get through them without picking up any mind altering substance. Today I have hope and feel that my life is a gift."