The Music Therapy program at Broadway Lodge includes group music therapy, bedside care, and individual sessions. They run groups such as Musical Memories, which involves collaborative music making and song-based reminiscence, and Garden Music groups, which occur outside to give the residents a full sensory experience of sharing music while soaking in the fresh air and beauty of nature in the facility's rooftop garden. Bedside music therapy sessions are offered for residents who are palliative, and are engaged in individually or with family present. Other music therapy services include one-to-ones for residents who require extra support, or are otherwise unable to attend group music therapy sessions.
Demographic
Older adults living in long-term-care; most have a diagnosis of Dementia, although other diagnoses such as Parkinson's, Schizophrenia, Depression, and Cancer are also present.
How does Music Therapy uniquely address the needs of clients at Broadway Lodge?
Music Therapy can have a significant impact on quality of life for residents in long-term care. Older adults are at higher risk for isolation and boredom, which can lead to negative health implications such as depression. Music is an engaging, social activity which can bring people together to combat isolation and provide fun and meaningful interactions. It is a normal and common experience to most people, which helps to alleviate anxiety and provide those struggling with dementia and confusion a point of reference that feels safe and familiar. At the Lodge, they have seen a decrease in agitation and wandering behaviour when residents are involved in music therapy. Additionally, music often has emotional ties to past memories, which makes it a perfect tool to facilitate reminiscence, allowing residents to process meaningful moments from their life history. The music therapy program at the Lodge has allowed residents a place to express themselves creatively, connect with others, and be supported in processing physical, emotional, and mental challenges with which they may be coping.
How has COVID-19 impacted the program?
Music Therapy continued as an essential service at Broadway Lodge. Group programs were suspended and shifted to individual focus. In addition to providing emotional and social support, Kristen implemented a new music therapy group centered around gratitude, in which a select number of residents joined the music therapist in a socially distant group to sing songs of encouragement and positivity as a way of thanking the staff at shift change. This group was incredibly beneficial, as it allowed the residents to experience a sense of usefulness and purpose in being able to encourage and support the staff. It also helped to lift staff spirits, allowing them to feel acknowledged and supported- many staff responded enthusiastically through singing, smiling, and dancing. Overall the group had a great impact in building a positive and hopeful atmosphere in the Lodge.
Adopting the program at Broadway Lodge would allow the continuation of:
Two Group Sessions per week
Individual sessions serving those who are isolated, who are not group-appropriate, as well as providing bedside music therapy for residents who are palliative and nearing the end of life
As well adding pilot programs such as:
Additional Music Therapy group for relaxation and stress reduction
Additional Music Therapy group focused on younger and more able residents (who lack options for programs serving their cognitive level)
Opportunity to take on a music therapy intern resulting in even further capacity of the music therapy program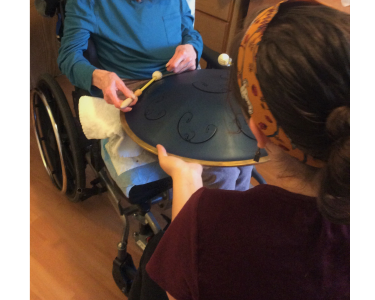 This year, Music Therapist Kristen Shin began to work with a resident, *Mark, who possessed communication challenges. Due to the communication barriers present, this resident was extremely socially isolated from most staff and peers. With the additional funds provided by Music Heals, this resident was able to be seen for individual sessions with the music therapist, where he was invited to engage in collaborative music making.
Most sessions consisted of playing the RAV drum: a melodic percussion instrument. Sharing in the musical experience allowed the resident to bypass his communication difficulties, and have meaningful interpersonal connections.
*Name of resident changed for confidentiality