BC Cancer's Patient and Family Counselling (PFC) Services annually deliver support to thousands of patients and their loved ones throughout British Columbia from diagnosis to 18 months post-treatment. Music therapy at BC Cancer offers weekly Relaxation & Music Therapy drop-in groups. Group participants received a blend of live music, therapeutic singing, and spoken word, combined with volunteers providing Soothing Touch to those who wished to receive it. Patients described the experience as "luxurious" and the group developed a regular following.
Demographic
The group serves mostly BC Cancer patients, with occasional attendance by family members, friends, or caregivers. Approximately 90% female, majority 45 years old and up.
How does Music Therapy uniquely address the needs of clients at BC Cancer?
The goal of music therapy at BC Cancer is to enhance the patient care journey through sensory experience to support the well-being and morale of patients and their loved ones. Music therapy can address both situational and chronic stress and has been shown to help with pain management and anxiety reduction(1). Music is also able to increase our quality of life providing aesthetic pleasure, embodying hope for survival, and providing a bridge from the diagnosis of 'cancer patient' to a larger, more complete sense of self(2). Feedback from the group participants includes: improved sleep, better depth and quality of relaxation than they can achieve at home, increased capacity to deal with stress, and that the combination of spoken word, music therapy, and soothing touch creates an immersive experience, one that feels luxurious and special.



Robb, S. Music assisted progressive muscle relaxation, progressive muscle relaxation, music listening, and silence: a comparison of relaxation techniques.  Journal of Music Therapy (1) 2000, 2-21.

Hilliard, R. The effects of music therapy on the quality and length of life of people diagnosed with terminal cancer.  Journal of music therapy (2) 2003, 113-137.
How has COVID-19 impacted the program?
Due to the COVID-19 pandemic, BC Cancer was forced to cancel all in person support groups in order to ensure patient safety and reduce the overall footprint in BC Cancer centres. As a result, the music therapy group has not run since March 10, 2020. The shift to a virtual model has required a great deal of innovation, but the silver lining to the challenge is that for the first time, the group will be available to patients around the province.
Adopting this program would support the Relaxation & Music Therapy group in transitioning to an online format, with the potential to reach BC Cancer patients throughout the province. The group will run twice per week, and will be co-facilitated by Carolyn and a team of counsellors from BC Cancer centres in Vancouver, Victoria, Prince George, and Kelowna. The group launched on Sept 17th, and will continue to be a drop-in where patients, families of patients, and caregivers are welcome.
In addition funding would be used to run an online Art & Music Therapy group, co-facilitated by Carolyn and Sara Hankinson, Art Therapist for the BC Cancer provincial team. This will be a more intimate therapeutic group with 6-8 participants in each cycle. With these two provincial music therapy programs, there is significant potential to reach a large cross section of the BC Cancer patient population, regardless of location.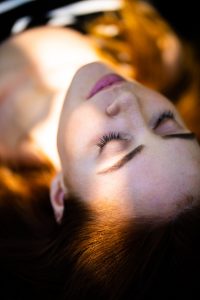 Each Tuesday afternoon, patients find their way to the John Jambor room at BC Cancer – Vancouver. They enter the room to find chairs in a circle, and many thick foam mats laid out with pillows and blankets. Patients are greeted by the sound of live piano, being played by music therapist Carolyn Neapole, and they are welcomed and settled by a BC Cancer counsellor and volunteers. The tone is set for what the next hour will be: an opportunity to relax. Carolyn and the counsellor check in with everyone, explaining what relaxation is, and how it benefits our mental and physical health. Some patients share what challenges have brought them to the group, images they find soothing, and the intensions they have set for themselves that day.
Moving to the mats, the relaxation can begin. Carolyn improvises on the piano throughout, singing the group into awareness of their breathing. The counsellor leads the group through a body scan and relaxation imagery, all the while the piano holds the grounded, calming state. Volunteers provide Soothing Touch to deepen the group's sensory experience. Carolyn's improvised singing and piano melodies weave in between the counsellors' images, and patients are submerged into 45 minutes of multi-sensory relaxation. The music voices the important elements of what helps us relax: safety, slowing down, letting go of tension, and feeling connected to ourselves. Carolyn also includes images mentioned by the patients during the check in, to increase their sense of connection to the relaxation. Patients are noticeably more relaxed at the end of the group. They describe feeling deeply cared for, and that the experience of a live music therapy relaxation offers a profound, effective, and satisfying relaxation experience, particularly when the stresses of living with cancer make it very difficult to ever relax. Patients have commented that the music feels like it is just for them, and that the resonance of Carolyn's voice can be felt deeply in their bodies as they sink into the relaxation experience.