The music therapy program at Adanac Park Lodge provides opportunities for residents of all ability levels. In addition to one-to-one sessions the lodge offers Vocal Choir, Hand Chime Choir, and Rock Band to provide supportive spaces for the residents to engage in positive social interactions, express themselves, and to showcase their unique talents and abilities.
Captivating Classics is a music appreciation group for actively receiving music. There are also groups for structured and improvisational based music experiences. Bedside Care provides comfort and care during times of isolation, recovery, and end of life care. In addition to these services music therapy is also used for Memorials, Indigenous peoples day, and Group performances.
Demographic
Adanac offers specialized care for younger adults with complex healthcare needs, cognitive impairment or responsive behaviour, early onset dementia, acquired brain injury and/or mental illness. Adanac serves Male and Female individuals. The age range upon admission is 19-65 years old. At present, 66% are under 65 years of age, and 77% are under the age of 70 years. Overall 73% are male and 27% are female. Adanac has a growing First Nations community along with other different cultures where there's a definite need for connections to culture.
How does Music Therapy uniquely address the needs of clients at Adanac Park Lodge?
Music therapy addresses the needs and abilities of the ever-changing population at Adanac. Many have been very underprivileged, lived hard lives, and have experienced a lot of stigma and obstacles. Many have also experienced trauma and rejection, so it's easy to see how these residents are so drawn to the therapeutic environment music therapy creates. The music therapy environment and its tools are so humanizing as it speaks to the needs of all domains; physical, social, emotional, cognitive, spiritual, and musical – but also there's culture. Music therapy offers opportunities for the residents to connect to their culture through singing, songwriting, drum circles, dance, and other therapeutic interventions. Music therapy supports a wide range of needs through its humanizing and inclusive qualities that connect people to their roots and to their dignity. Music therapy continues to be a fundamental service and an integral part of the residents' day-to-day life.
How has COVID-19 impacted the program?
Due to social distancing measures put in place by COVID-19, the biggest change was that the residents were only to participate in music therapy groups that are held on their own units, resulting in the suspension of both the Choir and the Hand Chime Choir, as they are larger groups made up of residents from each of the four neighbourhoods. Recently changes have been made to reintroduce the Rock Band program by dividing the group of 12 residents' into two groups of 6 to allow for safe social distancing.
Adopting this program will help Adanac Park Lodge continue their increased music therapy services in 2021. With the onset of the COVID-19 pandemic meaning disruptions to services, activities and decreased family visits, the lodge temporarily increased 1:1 music therapy services to support residents through this challenging time. The residents have benefited greatly from this additional music therapy service, however financially they cannot sustain this increase. With this funding the lodge also hopes to:

Implement New Programming: 'Rap n Recovery Group' focusing on promoting songwriting and recording as a therapeutic means to cope with personal challenges/struggles including coping with the changes imposed by the pandemic
Cater to the Indigenous Population: The Indigenous population at the lodge continues to increase and they recognize and value the importance of music programming which focuses on the Indigenous culture, including drum circles and use of percussion instruments.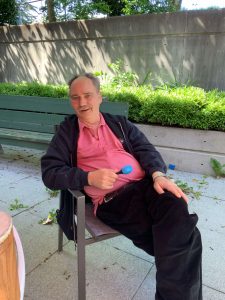 Jim moved into Adanac in 2008 at the age of 45. Jim is a kind, caring and social man with a great sense of humor. He was an advocate and very involved in the DTES mental health community in his younger years. Over the past years, Jim has had three lengthy hospital admissions, one in acute care and two in psychiatry.
Jim lives with a high level of anxiety and stress every day based around a fear of dying and his physical and mental health diagnosis. Jim was diagnosed with bipolar disorder, Schizophrenia, HIV, and Hepatitis B&C. Cognitively Jim is alert and oriented but needs constant prompting and assistance with tasks that involve executive functioning and he needs ongoing prompting and redirection to complete tasks.
Jim has expressed that it is hard to have meaningful conversations with others, and that no one believes him when he says, "[he's] going to die". One-to-one music therapy sessions gives Jim a safe space to be heard and for his feelings to be validated and real. Jim finds that poetry and songwriting helps him process his feelings by organizing his thoughts into something beautiful and creative. He expresses his gratitude for the music therapy sessions by saying "songwriting allows me to feel alive and helps keep me in the moment". Jim sings beautifully with his powerfully deep and sincere voice. When he sings, it's obvious that he is living in the moment as he tells a story through his creative body movements, his powerful stance, and expressive facial affect. He makes eye contact with his peers and his smiles are spread throughout the room. His passion and desire for music and life are infectious. Thanks to music therapy, Jim has the resources he needs to feel dignified and to create meaningful connections.